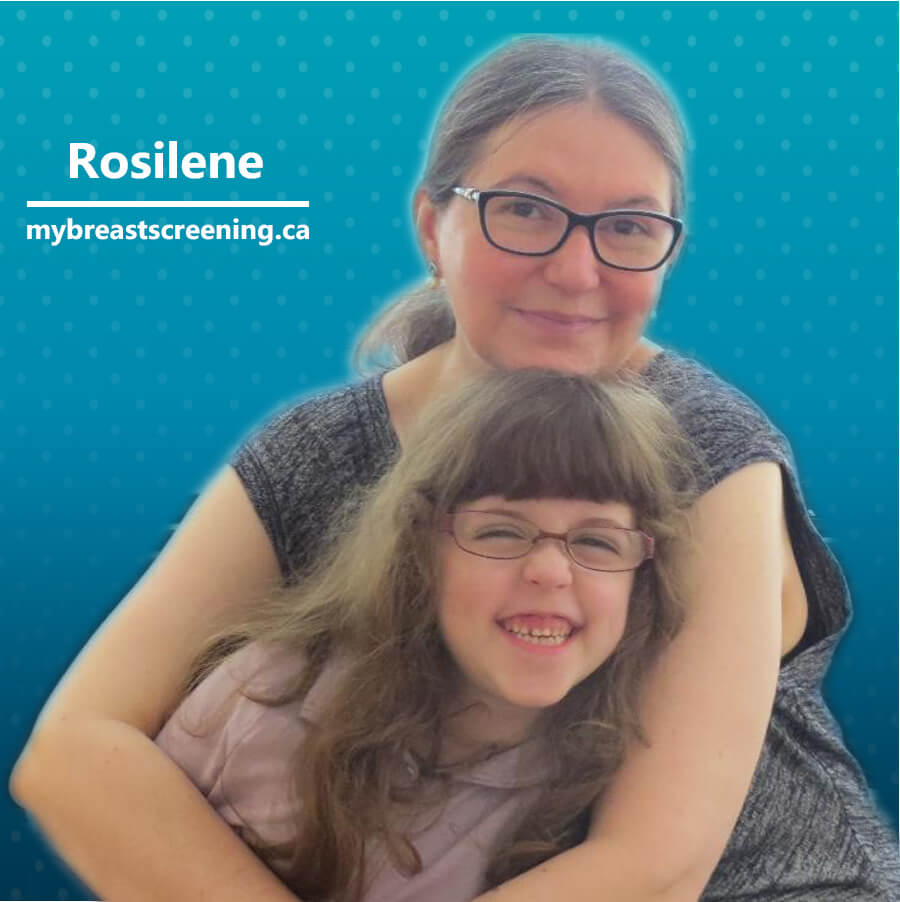 Rosilene could self-refer in her 40s in BC but her doctor, who was following dangerous breast screening guidelines, discouraged her from having a mammogram. She was then diagnosed with Stage 4 breast cancer.
I live in British Columbia. I am German/Brazilian and in Brazil I started to get yearly mammograms at age of 35. I was told to get them yearly because of my heterogeneously dense breasts and for often having masses, that fortunately until then had only been benign cysts. When I was transferred to the USA, my doctor in San Antonio continued with that schedule.
After some time in Texas, I got married to a Canadian citizen and upon moving here in 2011, I started to be seen by my husband's family doctor. I found a nodule in 2012, and I had a mammogram and ultrasound of the quadrant of where the nodule was.
After that, I asked my GP a few times about mammograms, telling him what had been told to me in Brazil. He said that those were not the practices in Canada, and he referred me to the HealthLinkBC website. There, they recommend periodic mammograms, only after age 50, and say that before that, periodic screening mammograms are not recommended. I could self-refer between 40 and 50, but my then family physician always discouraged me, and he even said that frequent mammograms could cause cancer and that I was worrying too much because there was no history of breast cancer in my family.
In 2013, I moved to Calgary. There I started a treatment for IVF, which was successful and the following year I had a baby girl. In 2015, I lost my job when the Oil & Gas area suffered with low prices. In the same year, I traveled twice to Brazil to see my father, who had terminal lung cancer. In the meantime, my husband got a job in BC and we moved back, in 2016. I asked again about mammograms, and again my GP said the same things.
Around April 2018, I started to have pains in my left hip that became progressively worse. I went to see that doctor several times. On one occasion, he said, while staring me in the eyes, "we should see this cancer" and continued staring until I looked down, ashamed. He gave me a referral to go see a physiotherapist. It did not help. That GP retired in June of that year. The last time we met, he told me to do yoga, that it would be good for me.
The next month, I had a sudden, awful pain in my hip, I could barely walk, but I only went to see a doctor in a walk-in clinic the next day. That doctor ended up becoming my new family physician. He ordered several exams and referred me to a sports medicine specialist. I had a bone scan in September. They saw the fractures, areas of increased metabolic activity, but instead of suggesting cancer, they thought I was a victim of domestic violence. The sports medicine specialist did not agree with the report and ordered other exams, but just to check more quickly, he ordered another x-ray. This time the x-ray showed an extensive bone lesion. The CT-scan was moved up to October 24th, and they confirmed cancer, but the type was unknown.
On October 28th, I told my husband I wasn't feeling well and asked him to take me to the Royal Columbian Hospital, in New Westminster. I got a chest CT for them to check for pulmonary embolism, but they found two nodules in my right breast, and some tiny ones in my lungs. The doctor at the Emergency Department that day told me that his wife worked at the Breast Cancer Health Centre at the Jim Pattison Outpatient Care and Surgery Centre and called her. She agreed to see me the very next day. That same day I got a biopsy done, which confirmed breast cancer. I ended up having a bone biopsy as well, as it had already been booked. It also confirmed breast cancer as the primary tumour. I could never feel anything different in my breast as I had been left with selfexams only. Besides being heterogeneously dense, my breasts were large. My tumour was not too big and was close to a pectoral muscle. I could never notice anything different. Two months later, my mom was diagnosed with early-stage breast cancer. She died six months after her lumpectomy, in January last year, from complications due to her cancer treatment.
The technologist doing my diagnostic mammogram told me that BC Cancer recommended starting mammograms at age 40.
Nowadays, they say that between ages 40 and 50, the decision to have screening mammograms needs to be made in conjunction with the family doctor.
I talked with my current GP about that. He mentioned things like the anguish that it causes to patients having to wait for results and causing a lot of unnecessary pain and anxiety; that on average, it does not bring benefits on survival. I have seen the same argument used elsewhere and feel offended by it. I think it is tremendously misinformed and quite callous, to say the least. It ignores that a percentage of these women will be diagnosed only when the cancer has already metastasized. Also, if caught up to stage 3, the woman will receive treatment with intent of cure, giving her at least 70% chance of being cancer free for the rest of her life. When diagnosed as stage IV, even when it is the first diagnosis of breast cancer a woman ever had, her treatment is, by protocol, solely palliative, with the intent of prolonging life, but not of curing the patient.
Also, despite my following the guidelines from HealthLinkBC, and although the Canadian Task Force on Preventive Health Care recommends that women do not perform self-examinationsii, I felt that the oncologists I saw, including a renowned one, blamed me for my late diagnosis. What is a patient to do?
They may still argue that the benefits of periodic mammograms are better seen in older women, but this thought puts us, women who develop cancer in our 40s or younger, often with more aggressive cancers, among numbers that they seem to find acceptable. I just feel like I was thrown in the middle of the percentage that they do not care about. In spite of my family's loss and mine, what they currently get is still considered success. My individual life, my family, my daughter (autistic, by the way – I was getting a degree on something completely new to me – Disability and Applied Behaviour Analysis – at the time my symptoms began, just to be able to help her). None of these seems to matter.
So, this is my experience. Even with women being able to self-refer for mammograms between ages 40 and 50 in BC, I think that there needs to be more education, including and perhaps most importantly, of family doctors regarding symptoms, the need for an earlier baseline mammogram, breast density effects on not only reducing how effective mammograms can be at detecting tumours but also predisposing women to breast cancer, so that misguided information will not end up leading to late diagnoses and deaths that could have been prevented.
Rosilene
Watch Rosilene's interview with CTV Vancouver