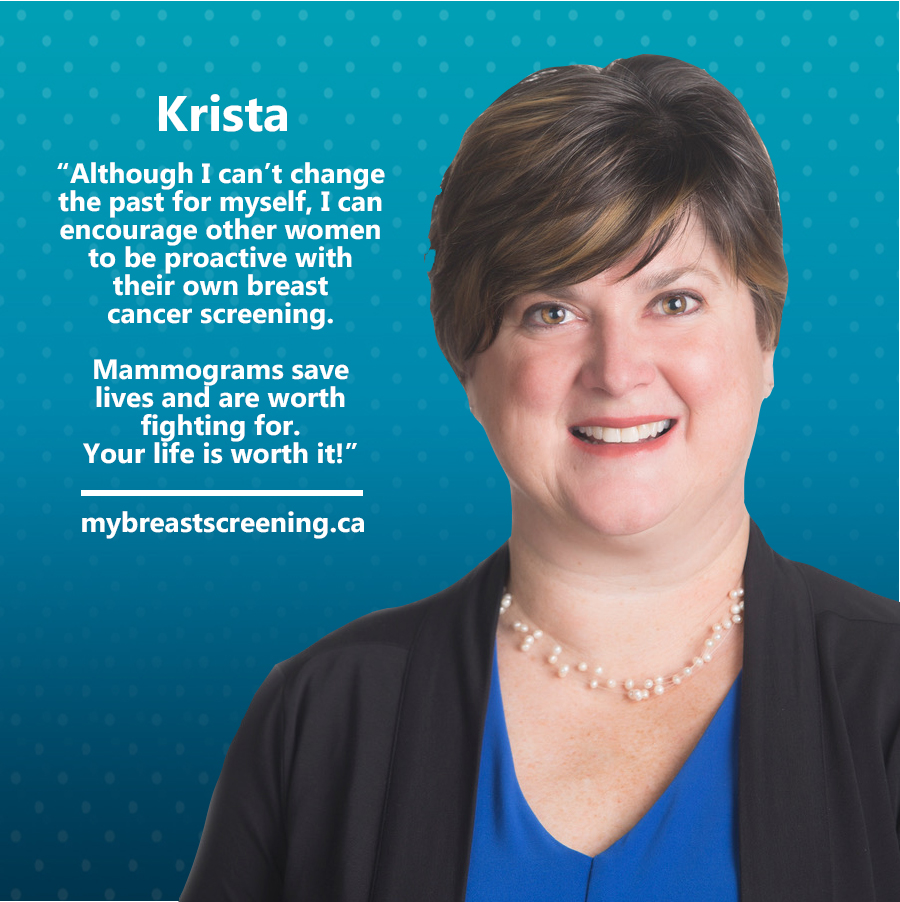 Krista wants other women to know the importance of being screened in the 40s.
When I found a lump in my breast one evening before going to bed, it knocked me to my knees. My husband had encouraged me to visit our family physician that week because of how unusually tired I was, although I had not recognized the changes in my own body. As soon as I felt the lump, I immediately knew it was cancer. My husband was already sound asleep in bed, so I quietly crawled in beside him and stared at the ceiling all night wondering if I was going to be okay. When he awoke at 5am, it must have been the look of fear or tears on my face that made him spring out of bed while asking what was wrong. From that moment forward, my life would never be the same.
The following few weeks were a blur as I juggled numerous medical appointments and tests. My fear was justified as the biopsy results confirmed what I already knew, I had breast cancer and it was stage 3. The first oncologist I met with held my hand and explained that since I was 46 years of age, it was normal at my age to develop breast cancer as 1 in 8 Canadian women would develop it within their lifetime. It was also explained to me that although there is no history of breast cancer in my family, the chances of developing breast cancer starts to increase for women in their 40's and definitely increases as we approach 50.
Why was I screened for heart disease at the age of 40 but was never given a mammogram even though I asked my family physician for one? Hindsight is always 20/20, I should have fought harder for a mammogram and should not have accepted "you don't need one because breast cancer doesn't run in your family and you're under the age of 50". Although I can't change the past for myself, I can encourage other women to be proactive with their own breast cancer screening. As I reflect upon my cancer journey, I feel fortunate that I am in good health once again.
Mammograms save lives and are worth fighting for. Your life is worth it!