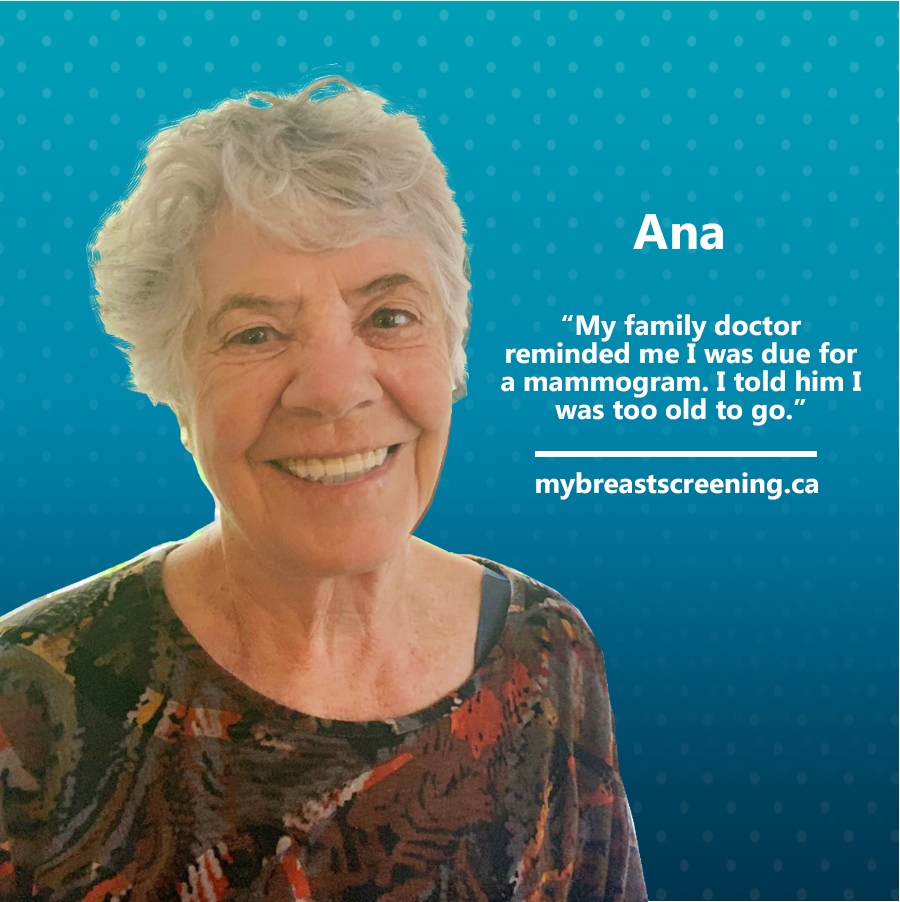 Ana thought she was too old to have a mammogram at 73, but fortunately she was convinced to get one.
Two years ago, I was at home and my daughter came for a visit (with my grandchildren; beautiful boys of 6 and 3 at the time). She stood by the counter as I was preparing lunch. On the counter sat a letter from the clinic to remind me I was due for a mammogram. My daughter asked if I had gone for the appointment. I said, "No, and I am not going." She replied, "But why?" My reply was "I am 73 years old, and every year I go for the mammogram test, it is always good!" However, my daughter told me, "Just the same, you should go!"
Two weeks after we had this conversation, during my routine doctor's visit, my family doctor reminded me I was due for a mammogram. I told him, similarly, I was too old to go, and until now everything was alright. My doctor though said "Ana, that was in the past — you can never be 100% sure it will not happen." So, we decided to make the appointment with the clinic. I went, and to my surprise I had to go again, and again. I was left wondering, why? The fact was the first scan on the first appointment detected something unusual. This led to a series of subsequent tests. It was eventually revealed there was cancer in my breast. Soon after, I had to see a surgeon to decide what was going to happen.
A few days after meeting with the surgeon I was admitted to the hospital where my left breast was removed. I decided to have a mastectomy instead of lumpectomy. I took this decision because I did not want to have to undergo radiation treatments afterwards. And thankfully, since the percentage of recurrence after my operation is very low, I did not even have to take pills. The hospital oncologist sent tissue to the USA where they check the genetic risk of recurrence. From this point forward in my life I will have a mammogram test every year.
Since writing this letter, it was yesterday that I received my result for the second-year mammogram. Everything is NORMAL! My doctor, who is always on top of things contacted me immediately with the result. I am extremely thankful for this; he knows that I worry a lot! I would also like to let you know that I chose not to have a breast implant. The truth is I don't like what I see. Yet, I am very grateful my doctor encouraged me to go for early detection testing.
I am happy that Dr. Warren is working with other provinces to help women access these tests before it is too late, and before more money must be spent, and more lengthy treatments. The earlier, the easier it is on everyone.
Now I am enjoying my retirement and my grandchildren. I am 75 years of age and I want to be free from any unnecessary pains.
Thank you, British Columbia Health Care, for helping people like me!
Sincerely,
Ana